Back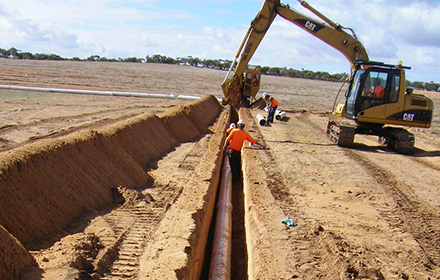 PVC-U
PVC-U pressure pipes are manufactured from unplasticised polyvinyl chloride polymer (a thermoplastic material) using the extrusion process. PVC-U pipes were introduced into Australia in the early 1960's and is now widely accepted for use across many applications. Their high strength weight ratio together with exceptional resistance to corrosion or chemical attack make these pipelines ideal for major infrastructure applications.
Applications
Iplex PVC-U pipes are recognised for their advantages and have been used extensively since the 1970's in the following applications,
Major potable water supply trunk and reticulation mains
Irrigation and turf watering systems
Industrial process pipelines
Effluent pipelines for pumped sewage, industrial and rural wastes
Slurry pipelines carrying abrasive and corrosive mine or quarry materials
Want more information?
Speak with one of our expert sales engineers today.