Back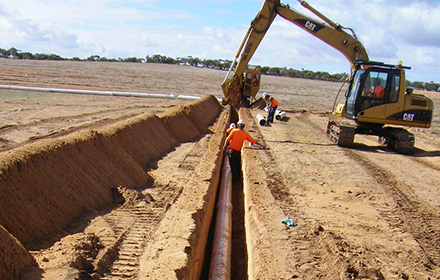 PVC-U
PVC-U pressure pipes are manufactured from unplasticised polyvinyl chloride polymer (a thermoplastic material) using the extrusion process. PVC-U pipes were introduced into Australia in the early 1960's and is now widely accepted for use across many applications. Their high strength weight ratio together with exceptional resistance to corrosion or chemical attack make these pipelines ideal for major infrastructure applications.
Frequently Asked Questions
Do I have to use primer when joining PVC pipes?
Yes, the primer removes dirt and grease from the pipe as well as etches the pipe for the application of the solvent cement. Note: Pressure pipe larger than DN200 will require special gap filling solvent cement.
Can a mixture of solvent weld joint fittings and ductile iron fittings in the same pipeline / system?
Yes, both types of fittings can be used; thrust blocks must be used when using ductile iron fittings.
Can PVC-U pipes be use above ground?
Yes, these pipes must be supported at regular intervals and can be painted with acrylic based paint to reduce exposure to UV radiation.
Is PVC-U suitable for use in compressed air lines?
No, PVC pipes are not suitable for use as compressed air lines. Polyethylene pipes can be used for these applications.
Can tapping saddles be used on PVC-U pipes?
Tapping saddles can be used on PVC-U pipes, it is important not to use a tapping saddle within 600 mm of a join and if using multiple saddles, there must be 600 mm between saddles.
Are ductile iron fittings available for series 1 PVC-U pipe?
There is a range of ductile iron fittings for series 1 pipe, please Iplex sell a range of Crevet® Ductile Iron fittings for Series 1 pipe. For more information on this range refer to the Crevet Ductile Fittings section on of the website Learn More.