Back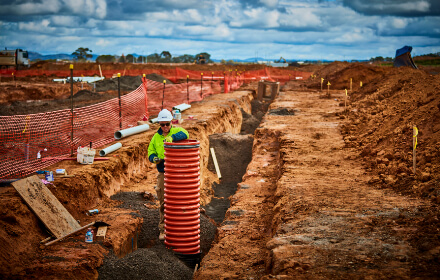 EZIpit
The Iplex EZIpit® 425 (MS), EZIpit® 600 (MC) and EZIpit® 1000 (MH) offer significant benefits in sewer construction and flexibility in sewer networks. The environmental, technical and economical demands of water authorities for a water-tight, corrosion proof, stable and durable sewer system is now a reality with the Iplex EZIpit® systems.
Contact us today to discuss how the EZIpit® range will benefit your next sewer maintenance project.
Frequently Asked Questions
How deep can you bury the EZIpit® ?
The EZIpit® can be buried to a maximum installation depth of 5m and a minimum depth of 1.2m to invert.
Why is the shaft corrugated?
The corrugated shaft provides further flexibility and as a result can deflect and absorb dynamic traffic loads without cracking.
Can the EZIpit® be installed in a roadway?
Yes. The EZIpit® is designed to resist loading and can be supplied with a Class D cover arrangement, which complies with AS 3996.
Will the EZIpit® resist flotation when buried in water charged ground?
Yes, the corrugated wall will key into the compacted embedment material resisting any up thrust. Tests in the field have been successfully conducted, confirming the unit doesn't float.
Can you use SewerMAX® pipe with the EZIpit®?
Yes, but only in DN225. The DN225 SewerMAX® spigot x socket pipe adaptor allows connection to the base when using SewerMAX® pipe.
Can the EZIpit® be supplied with an internal or external drop structure?
Yes. The EZIpit® shaft can be supplied with a polypropylene spigot welded into the side of the shaft allowing connection to PVC DWV Sewer Pipe. The welded spigot ensures a watertight connection.
Is the EZIpit® frame and cover gas tight?
Yes, the frame and cover is gas and watertight and complies with AS 3996.
Why does the EZIpit® system have a cap and lid?
The cap and lid was designed to prevent personnel entry.
Can you install an access ladder in the shaft?
No, The EZIpit® is an inspection and maintenance chamber and not a manhole. Therefore it has been designed to prevent personnel entry into the confined space. The cap and shaft do allow inspection with CCTV and blockage clearance with water jets.
Do I need a crane to install the EZIpit®?
No, The EZipit® has been designed for ease of handling and installation.
Is the EZIpit® suitable for stormwater applications?
Yes, the EZIpit® is suitable for storm-water drainage applications provided the minimum cover is not less than 1.2m's to invert.
Yes, The shaft is one continuous length with no joints eliminating any potential points for root intrusion.
The rubber ring joint connecting the shaft to the base is also resistant to root intrusion and complies with AS/NZS 1260 and AS/NZS 5065 with respect to joint performance.