Back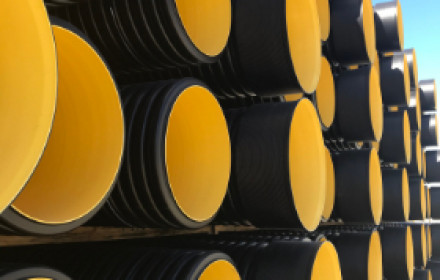 Blackmax
BlackMAX® is a cost-effective alternative to rigid stormwater drainage pipes providing exceptional performance and durability. Manufactured from polypropylene, BlackMAX® pipes are resistant to corrosive and aggressive ground conditions, such as acid sulphate soils or saline ground waters; resulting in increased longevity of the pipeline.
Is BlackMAX™ suitable for above ground applications?
Yes, provided the pipe is adequately supported along its entire length and at each socket joint.
Why is BlackMAX® yellow on the inside?
The yellow inner liner allows for ease of visual inspection during installation and commissioning.
How long will BlackMAX® pipe last?
Based on the performance requirements of the standard and general national and international knowledge of Polypropylene as a pipeline material, BlackMAX® is expected to exceed 100 years before major rehabilitation, provided the design, installation, testing and commissioning are in accordance with the manufacturers recommendations, WSA 02 Sewerage code or agency requirements.
How deep can you bury BlackMAX® ?
BlackMAX® pipes have a relatively high pipe stiffness of not less than 8000N/m.m, classified, as SN8 and are suitable for cover heights of 2 to 10 metres. . A full structural analysis to AS/NZS 2566.1 should be completed to confirm suitability.
Can BlackMAX® be used under a road, if so what cover does it require?
Yes, BlackMAX® is adequate for AUSTROADS highway loadings. 600mm of cover is required as a minimum under sealed roads and 750mm of cover under unsealed roads. However this can vary with the regulatory authority and a full structural analysis to AS/NZS 2566.1 should be completed to confirm suitability..
What sizes are BlackMAX® available in?
BlackMAX® pipes are manufactured in diameters, DN225, DN300, DN375, DN450, DN525 and DN600.
How do join BlackMAX® pipes?
Both BlackMAX® pipes and fittings are manufactured with a spigot and socket rubber ring jointing system.
Is BlackMAX® ribbed inside?
No. The inner wall is a smooth liner, providing excellent hydraulic performance
How do you connect BlackMAX® to head walls or Manholes?
BlackMAX® pipes can be directly cast into concrete maintenance holes, pits or other concrete structures. Refer to the installation guidelines for further information.
What about jetting and root cutters to clean the lines. Can BlackMAX® be water jet cleaned?
Yes, provided appropriate methods are used. For complete information, refer to PIPA Guideline, POP205.
Does BlackMAX® conform to the relevant standards?
Yes. BlackMAX® conforms to AS/NZS 5065 'Polyethylene and polypropylene pipes and fittings for drainage and sewerage applications. SAI Global also certifies both products to the Australian and New Zealand standard.
Has BlackMAX® been appraised by WSAA?
Yes, Product appraisal 03/05. BlackMAX® is regarded as fit for purpose and rated 'A' with a life expectancy in excess of 100 years!
What types of fittings are available for BlackMAX® pipe?
A full range of standard fittings, including bends, tees, junctions, closed ends, couplings, plugs, reducers, saddles and adaptors are available providing a complete pipeline system