Back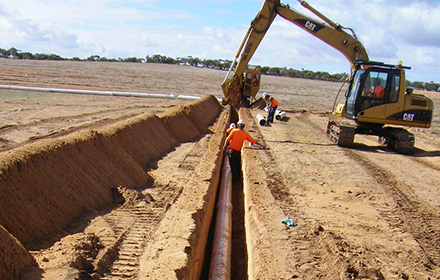 PVC-U
PVC-U pressure pipes are manufactured from unplasticised polyvinyl chloride polymer (a thermoplastic material) using the extrusion process. PVC-U pipes were introduced into Australia in the early 1960's and is now widely accepted for use across many applications. Their high strength weight ratio together with exceptional resistance to corrosion or chemical attack make these pipelines ideal for major infrastructure applications.
Product Details
Standards and Approvals
Iplex PVC-U pipe is manufactured to the Australian Product Standard under a third party accredited quality assurance program complying with ISO 9001.
PVC-U pressure pipes has ISO Type 5 third-party StandardsMark certification, licence numbers: SMK1304, SMK1058, SMK1173 and SMK1531 in accordance with Australia/New Zealand Standard AS/NZS 1477 "PVC pipes and fittings for pressure applications".
Rubber Ring Seals
Rubber Rings seals are EPDM polymer, which conforms to the requirements of AS 1646 "Elastomeric seals for waterwork purposes".
Colour and Markings
Iplex PVC-U pipes are colour coded in accordance with AS/NZS 1477 and WSAA product specification WSA PS211, to readily distinguish between the different types of pipe applications. The following is a summary of the colours used for common applicators.
PVC-U (Series 1) pipes for drinking water applications are white in colour
PVC-U (Series 1) pipes specified for recycled water applications are purple in colour
PVC-U (Series 1) Pipes intended to pressure sewerage applications are cream in colour
Environmental Credentials
Iplex PVC-U pressure pipe is certified to confirm to the Best Environmental Practice PVC (BEP PVC) provisions of AS/NZS 1260.
The Green Building Council of Australia (GCBA) has defined the standards for best practice environmental performance for PVC manufacturing, against which Iplex's processes have been audited by an independent certifying body. These permits users of Iplex PVC-U pressures pipes to claim positive PVC Credit Points under the GBCA's Green Star Rating Scheme Learn More.
Iplex Pipelines has published verified Environmental Product Declaration (EPD) on our range of PVC-U Pressure Pipes. EPD's are third party certified documents based on ISO 14025 and EN 15804 Standards that communicate transparent and comparable information about the life-cycle environmental impact of a product or service. Specifically, product declarations include information on the environmental impact of raw material acquisition, energy use and efficiency, composition of materials and chemical substances, emissions to air, soil and water and waste generation. View Iplex's PVC-U pressure pipe EPD
PVC-U Pressure Pipe Range and Dimensions
PVC-U pressure pipes are available in both solvent weld (SWJ) and rubber ring joint (RRJ). DN15 up to and including DN150 pipes are available in SWJ and DN80 up to an including DN375 pipes are available in RRJ.
PVC-U Fittings Range
A full range of SWJ bends, tees, reducers and valve connectors are available for Iplex PVC-U Series 1 pressure pipes with appropriate socketed joints for sizes DN15 to DN375.
Note: The use of imported solvent welded PVC-U fittings with parallel sockets will require gap filling solvent complying with ASTM D-2564. Failure to use the appropriate solvent and cleaner will result in joint failure.
All PVC-U fittings are electrically non-conductive and do not require corrosion protection in aggressive environments.
Crevet® Ductile Iron Fittings Range
Conventional socketed fittings complying with AS/NZS 2280 - "Ductile Iron Pressure Pipes and Fittings" are generally suitable for use with Iplex's PVC-U Series 1 pressure pipes.
The Iplex Crevet® range of bends, tees, reducers and flange-spigot pieces are available with rubber ring sockets in sizes DN100 to DN375.
Reference should be made to the Water Services Association of Australia WSAA TN2 'Guidelines for the use of non-metallic pipes with ductile iron elastomeric joint fittings'. If in doubt, contact Iplex Pipelines to confirm the Suitability of any particular range of fittings.
Ductile iron fittings can be protected from corrosion with the following:
Polymeric coated (preferred)
Cement lining and polyethylene wrap
Epoxy coating