Back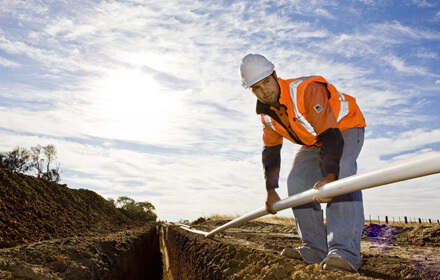 PVC-M
Iplex Rhino® PVC-M pressure pipes are high performance thermoplastic pipes, incorporating the advancements of modified PVC pipe technology. Providing superior characteristics over conventional un-plasticised PVC (PVC-U) pressure pipes, including higher impact resistance and ductility, reduced weight and greater hydraulic capacity.
Product Details
Standards and Approvals
Iplex Rhino® PVC-M pipe is manufactured to the Australian Product Standard under third party accredited quality assurance system conforming to ISO 9001.
Rhino® PVC-M pipe has ISO Type 5 third-party StandardsMark Certification, License numbers SMK02748, SMK02468, SMK02749 and SMK02730 in accordance with AS/NZS 4765 "Modified PVC (PVC-M) pipes for pressure applications".
Rhino® PVC-M pipe was appraised by Water Services Association of Australia (WSAA) – and rated "A" with a life expectancy in excess of 100 years.
Rubber Ring Seals
Iplex Reiber rubber rings conform to the requirements of AS 1646 "Elastomeric seals for waterworks purposes". They are manufactured from SBR or EPDM elastomers.
Colour and Markings
Iplex Rhino® PVC-M pipes are colour coded as per AS/NZS 4765 and WSAA product specification WSA PS 209, to easily distinguish between the different types of pipes applications.
Rhino® pipe colour identification
| | |
| --- | --- |
| Product | Application |
| Rhino® PVC-M White (Series 1) | Drinking water |
| Rhino® PVC-M Blue (Series 2) | Drinking water |
| Rhino® PVC-M Purple (Series 1 & 2) | Recycled water |
| Rhino® PVC-M Cream (Series 1 & 2) | Pressure sewerage |
Iplex Rhino® PVC-M pressure pipes are marked in accordance with AS/NZS 4765 "Modified PVC (PVC-M) pipes for pressure applications". Markings include:
Manufacturers name and brand name
Nominal Pipe Size
PVCM
PN
Date of manufacture
Manufacturers code
AS/NZS 7465
BEP PVC
Environmental Credentials
Iplex PVC-M pressure pipe is certified to confirm to the Best Environmental Practice PVC (BEP PVC) provisions of AS/NZS 1260.
The Green Building Council of Australia (GCBA) has defined the standards for best practice environmental performance for PVC manufacturing, against which Iplex's processes have been audited by an independent certifying body. These permits users of Iplex PVC-M pressures pipes to claim positive PVC Credit Points under the GBCA's Green Star Rating Scheme. Learn More
Iplex Pipelines has published verified Environmental Product Declaration (EPD) on our range of PVC-M Pressure Pipes. EPD's are third party certified documents based on ISO 14025 and EN 15804 Standards that communicate transparent and comparable information about the life-cycle environmental impact of a product or service. Specifically, product declarations include information on the environmental impact of raw material acquisition, energy use and efficiency, composition of materials and chemical substances, emissions to air, soil and water and waste generation. View Iplex's PVC-M pressure pipe EPD
Rhino® PVC-M Pressure Pipe Range and Dimensions
Iplex Rhino® PVC-M pressure pipes are available in both Series 1 (White Rhino®) and Series 2 (Blue Rhino®). Purple Rhino® and Cream Rhino® can be supplied as Series 1 or Series 2 as required.
Rhino® PVC-M Fittings Range
Conventional socketed fittings conforming to AS/NZS 2280 – "Ductile Iron Pressure Pipes and Fittings" and WSAA TN2 are generally suited for use with Iplex Rhino® PVC-M Series 1 and 2 pressure pipes. A complete range of bends, tees, reducers, flange-spigot pieces and valves are available with rubber ring sockets ranging from DN100 to DN750.