Back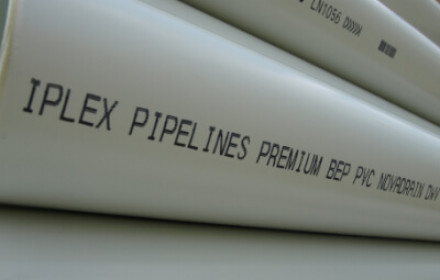 DWV
Iplex's PVC-U Drain Waste & Vent (DWV) system is one of the most comprehensive on the market with a full range from 40mm to 375mm in diameter. As a pioneer in the development and marketing of PVC systems for DWV applications Iplex is well known for its excellent product quality.
Product Details
Standards and Approvals
Iplex PVC-U pipe is manufactured to the Australian Product Standard under a third party accredited quality assurance program complying with ISO 9001.
Iplex Pipelines PVC-U DWV Pipe and fittings systems are intended for use above and below ground including exposure to direct sunlight and are manufactured to AS/NZS 1260 PVC pipes and fittings for drain, waste and vent applications. Iplex DWV pipe and fittings are also certified products holding the StandardsMark and WaterMark indicating that the products have been independently assessed and recognised as quality products.
Colour and Markings
lplex Pipelines DWV pipe and fittings are manufactured in a light grey colour in a semi-gloss finish, which is opaque and flawless.
All DWV pipes are repeatedly branded in accordance with AS/NZS 1260, which includes the date and place of manufacture.
Environmental Credentials
Iplex PVC-U non-pressure stormwater pipe is certified to confirm to the Best Environmental Practice PVC (BEP PVC) provisions of AS/NZS 1260.
The Green Building Council of Australia (GCBA) has defined the standards for best practice environmental performance for PVC manufacturing, against which Iplex's processes have been audited by an independent certifying body. These permits users of Iplex PVC-U non-pressures pipes to claim positive PVC Credit Points under the GBCA's Green Star Rating Scheme. Learn More
Iplex Pipelines has published verified Environmental Product Declaration (EPD) on our range of PVC-U non-pressure Pipes. EPD's are third party certified documents based on ISO 14025 and EN 15804 Standards that communicate transparent and comparable information about the life-cycle environmental impact of a product or service. Specifically, product declarations include information on the environmental impact of raw material acquisition, energy use and efficiency, composition of materials and chemical substances, emissions to air, soil and water and waste generation.
Product Limitations
| | |
| --- | --- |
| Effect Of low temperature | The impact resistance of PVC-U pipe and fittings decreases with reduction in temperature therefore increased care should be exercised if installations are carried out near 0°c |
| Effect on elevated temperatures | PVC-U DWV pipes have a softening temperature of approximately 7°5C. Because the material has a low thermal conductivity DWV pipes are able to cope with typical discharges at even higher temperatures. Full bore and extended discharges at higher temperatures should be avoided. |
| Specialised applications | The systems are more than adequate for normal domestic applications in low and multi-rise dwellings. Where more specialised applications, such as tea-makers, autoclaves. hospitals, commerical dishwashers, commercial laundries, industrial kitchens and laboratories are concerned, where prolonged discharges of liquids at elevated temperatures can occur, contact Iplex Pipelines. |
DWV Pipe Range and Dimensions
Pipes are specified in terms of stiffness classes measured in a standard test. The new classes are not exactly the same as the earlier classification scheme (Class SH and Class SEH) but are similar.
Class SN4 and Class SN6 are considered to be suitable for plumbing and domestic use, effectively replacing Class SH.
Class SN8 and Class SN10 are suitable for general municipal drainage, deeper burial and similar applications where higher pipe stiffness is required to minimise deflection of the installed pipes due to the load imposed by the back fill or surcharge or to poor soil conditions. These pipes have effectively replaced Class SEH pipes.
DWV Fittings Range
Iplex provide a range of SWJ and RRJ fittings. They are designed with a high impact strength, which helps prevent damage during handling and installation. All parts assemble easily using either solvent cement or rubber seal rings to accommodate thermal or ground movement.