Back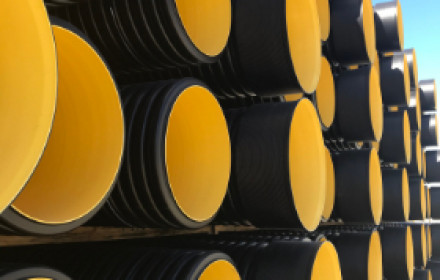 Blackmax
BlackMAX® is a cost-effective alternative to rigid stormwater drainage pipes providing exceptional performance and durability. Manufactured from polypropylene, BlackMAX® pipes are resistant to corrosive and aggressive ground conditions, such as acid sulphate soils or saline ground waters; resulting in increased longevity of the pipeline.
Product Details
Standards and Approvals
Iplex BlackMAX® pipes and fittings are manufactured to the Australian Product Standard under third party accredited quality assurance system conforming to ISO 9001.
BlackMAX® pipe has ISO Type 5 third-party StandardsMark Certification, License number SMXXX accordance with AS/NZS 5065 "Polyethylene (PE) and polypropylene (PP) pipes and fittings for drainage and sewerage applications".
BlackMAX® pipes and fittings have been appraised by Water Services Association of Australia (WSAA) for performance compliance with AS/NZS 5065 (WSAA Appraisal 03/05).
Environmental Credentials
Iplex Pipelines has published verified Environmental Product Declaration (EPD) on our range of Polypropylene pipes. EPD's are third party certified documents based on ISO 14025 and EN 15804 Standards that communicate transparent and comparable information about the life-cycle environmental impact of a product or service. Specifically, product declarations include information on the environmental impact of raw material acquisition, energy use and efficiency, composition of materials and chemical substances, emissions to air, soil and water and waste generation.
View Iplex's BackMAX® and SewerMAX® polypropylene drainage pipes EPD
BlackMAX® Pipe Range and Dimensions
BlackMAX® pipes are available in diameters ranging from DN225 through to DN600 in SN8.
BlackMAX® Fittings Range
A range of standard fittings, including bends, tees, junctions, closed ends, couplings, plugs, reducers, saddles and adaptors are manufactured for use with BlackMAX® and SewerMAX® pipes. Fittings can be fabricated from BlackMAX® or SewerMAX® pipe sections, PVC pipe sections, GRP / PVC and GRP / VC composite materials.
BlackMAX® stormwater drainage fittings in sizes DN225, DN300 and DN375 are generally fabricated from PVC pipe sections with moulded socketed ends for connection to BlackMAX® pipe spigots. The use of PVC in these sizes provides improved manufacturing efficiencies and reduced costs compared with the PP fabrication process. The PVC BlackMAX® range of fittings complies with Australian Standard AS/NZS 1260: "PVC-U pipes and fittings for drain waste and vent applications".
BlackMAX® stormwater drainage fittings in sizes DN450, DN525 and DN600 are fabricated from BlackMAX® (PP) pipe sections and are generally supplied with socketed ends suitable for rubber ring jointing. Other configurations, such as all spigoted ends, are also available on request with separate pipe couplings for jointing. DN100 and DN150 components are supplied with either PVC (RRJ or SWJ sockets) or standard solid wall polypropylene plain-ended spigots (110mm OD) and (160mm OD), allowing lateral side connections such as property branch connections. BlackMAX® (PP) fittings comply with Australian Standard AS/NZS5065 "Polyethylene and polypropylene pipes & fittings for drainage and sewerage applications".
GRP, GRP/PVC and GRP/VC composite fittings are manufactured specifically for use with SewerMAX® pipes with socketed ends for connection to SewerMAX® pipe spigots. GRP fittings are also available with PVC or VC socket or spigot ends for lateral connections to incoming PVC or VC sewer pipes. GRP SewerMAX® fittings comply with Australian Standard Revision AS3571 "Glass reinforced thermosetting plastics (GRP) pipes – Polyester based – Water supply, sewerage and drainage applications".
To view the full range of fittings and dimensions please view the BlackMAX® and SewerMAX® product Range.