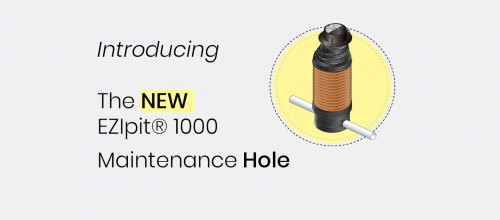 The perfect plastic pipeline pit for your next project might just be EZIpit® sewer maintenance structures
We are delighted to formally announce that the EZIpit® 1000 Maintenance Hole (MH), has been successfully appraised by WSAA to Australian Industry Standard WSA137.
EZIpit® has been used by Australian water authorities and sewer contractors for almost 15 years providing complete plastic gravity sewer solutions which are essential for any rural and urban sewerage system.
The introduction of our new EZIpit® 1000 (MH), enables engineers and water authorities to use a one-metre plastic sewer maintenance hole at intervals across their sewer infrastructure, permitting physical access into the sewer shaft when required. Combined with our incumbent EZIpit®425 (MS) and EZIpit®600 (MC) systems, we can provide complete design and construction flexibility to any sewer project.
A successful WSAA appraisal plays a key part in our EZIpit Approvals process and acceptance within the Water Industry. Our durable, lightweight, and modular packaged systems, ensure we can supply key infrastructure projects with maintenance structures that are quick and easy to install, cost effective and, provide years of corrosion free service. Download a copy of the appraisal from WSAA.
The EZIpit® 1000 MH is now available for purchase. Click here to hear from our Lead Product Manager, Michael Lancuba about the WSAA Appraisal, request a call from our Sales Team or to sign up to our upcoming webinar where we will unpack the benefits of the complete EZIpit® system.
To find out more about our entire EZIpit® range visit our product page.