Back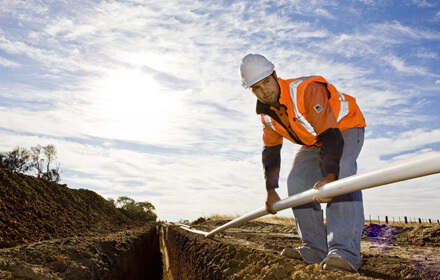 PVC-M
Iplex Rhino® PVC-M pressure pipes are high performance thermoplastic pipes, incorporating the advancements of modified PVC pipe technology. Providing superior characteristics over conventional un-plasticised PVC (PVC-U) pressure pipes, including higher impact resistance and ductility, reduced weight and greater hydraulic capacity.
Frequently Asked Questions
Is Iplex Rhino® PVC-M interchangeable with PVC-U pressure pipes?
Yes, it is interchangeable; however the effects of cyclic loading (high amplitudes and frequency pressure operations) should be checked. Also PVC-M is not as stiff as the equivalent PVC-U pressure pipe and this may be significant where negative pressure of high soil loadings occur.
Can a mixture of solvent weld joint fittings and ductile iron fittings be used in the same pipeline/system?
Yes, both types of fittings can be used, however thrust blocks must be used when using ductile iron fittings with rubber ring joints.
Can Rhino® PVC-M pipes be used above ground?
Yes, these pipes must be supported at regular intervals and can be painted with light coloured acrylic based paint to reduce the effects of UV radiation. It is also recommended full circle supports surround the pipes and "padded" with compressible material (such as 3mm thick insertion rubber) protecting the exterior surface of the pipe from abrasion.
Is Rhino® PVC-M suitable for us in compressed air lines?
No, PVC pipes are not suitable for use as compressed air lines. Polyethylene pipes may be used for these applications.
Can tapping saddles be used on Rhino® PVC-M pipes?
Yes, tapping saddles can be used on PVC-M pipes. It should be noted it is important not to use a tapping saddle within 600mm of the pipe joint and if using multiple saddles, there must be a distance of at least 600mm between saddles.
Can Rhino® PVC-M pipe be used as bore casing?
Yes, however as PVC-M pipes have thinner walls than PVC-U pipes of the same PN rating, a higher pressure rated pipe must be used.
The reference document for water drilling contractors is the Minimum Construction Requirements for Water Bores in Australia (MCR) which specifies that all PVC bore casing pipe shall be PVC-U to AS/NZS1477 with the minimum bore casing diameter of 100mm. The MCR excludes PVC-M pipe and is subject to discussion with the Australian Drillers Association, however some states it is understood that compliance with the MCR is mandatory.
The Plastics Industry Pipe Association of Australia (PIPA) has released an industry guideline POP105 PVC Pipes in Bore Casings which states in order to comply with the existing MCR only PVC-U pipes should be used, however in areas where compliance with the MCR is not mandatory it may be suitable to substitute PN16 PVC-M for the PN9 PVC-U pipe.