Back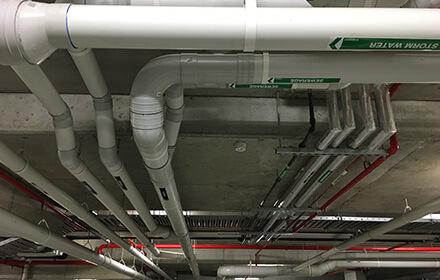 Stormwater
Plastic pipe systems offer major advantages over traditional materials for stormwater applications including corrosion resistance, installation economics, operating efficiencies and reductions in maintenance costs. Iplex's PVC-U stormwater system from DN75 through to DN375 provides a complete pipe and fittings range for stormwater disposal.
Frequently Asked Questions
Can stormwater pipe be installed in sunlight?
Yes, stormwater pipe and fittings contain UV absorber (TiO 2) and can be installed in direct sunlight.
How deep or shallow can you bury stormwater pipe?
Refer to AS/NZS2566 and AS/NZS2032.
Can I use stormwater pipe to transfer drinking water?
Australian standards do not require stormwater pipes to be tested for use in contact with drinking water. In these applications, pipes complying with the test requirements of AS/NZS4020 should be used.
Can I concrete encase stormwater pipe?
Yes, refer to AS/NZS2032.
What pressure do I test to?
Refer to AS/NZS2032.
What is a safe span if installed above the ground?
Maximum spacing of pipe supports for non-pressure pipes AS/NZS 2032:2006
| | | |
| --- | --- | --- |
| Nominal size of pipe | Graded pipelines | Vertical pipelines |
| 32 | 0.90 | 1.80 |
| 40/50 | 1.00 | 2.00 |
| 65-150 | 1.20 | 2.50 |
| >150 | 1.50 | 3.00 |
Can Iplex PVC-U stormwater pipes be painted?
Yes, they can be painted with a water based paint.