Back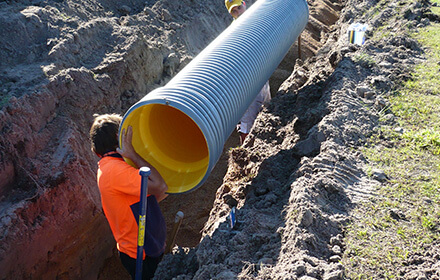 SewerMAX
SewerMAX® is a cost-effective sewer pipe system suitable for gravity trunk sewer mains. Manufactured from polypropylene, SewerMAX® pipes are highly resistant to chemical attack which can be common in sewerage and industrial wastewater pipelines. The material is also resistant in aggressive ground conditions, such as acid sulphate soils or saline ground waters.
Product Details
Standards and Approvals
Iplex SewerMAX® pipes and fittings are manufactured to the Australian Product Standard under third party accredited quality assurance system conforming to ISO 9001.
SewerMAX® pipe has ISO Type 5 third-party StandardsMark Certification, License number SMXXX accordance with AS/NZS 5065 "Polyethylene (PE) and polypropylene (PP) pipes and fittings for drainage and sewerage applications".
SewerMAX® pipes and fittings have been appraised by Water Services Association of Australia (WSAA) for performance compliance with AS/NZS 5065 (WSAA Appraisal 03/05).
Environmental Credentials
Iplex Pipelines has published verified Environmental Product Declaration (EPD) on our range of Polypropylene pipes. EPD's are third party certified documents based on ISO 14025 and EN 15804 Standards that communicate transparent and comparable information about the life-cycle environmental impact of a product or service. Specifically, product declarations include information on the environmental impact of raw material acquisition, energy use and efficiency, composition of materials and chemical substances, emissions to air, soil and water and waste generation.
View Iplex's BackMAX® and SewerMAX® polypropylene drainage pipes EPD
SewerMAX® Pipe Range and Dimensions
SewerMAX® pipes are available in diameters ranging from DN225 through to DN600 in SN10.
SewerMAX® Fittings Range
A range of standard fittings, including bends, tees, junctions, closed ends, couplings, plugs reducers and saddles are manufactured with SewerMAX®pipes.
PVC and GRP/VC composite fitting are manufactured specifically for use with SewerMAX®. pipe with socketed ends for connection to SewerMAX® pipe spigot.
A rang of stainless steel, jointing and repar clamps are available in sizes DN225, DN300, DN375, DN450, DN525 & DN600 for repairs and maintenance of SewerMAX® pipes. SewerMAX® SS Junction with reducing DN100 and DN150 DWV branch off-takes at 45o are also available, simplifiying lateral side connection to property branch sewer lines without the need of cutting-in a new junction. The stainless junction and clamps have been designed specifically for SewerMAX® and comply with the requirment of Austrlian Standard "AS4181 Stainless steel clamps for water work purposes".
SewerMAX® Rubber Ring Joint Poor joint performance can lead to majot problem with your asset. An inadequate joint can allow tree root intrusion, which can lead to pipe Blockages and ground water infiltration. Infiltration through the pipe joint can also cause silting of the pipeline and long-term maintenance issues. For this reason the duality of the joint is critical to the performance of any pipe system.
The SewerMAX® pipe joint has been designed to meet the perforrnanoe requirment of "AS/NZS 5065 Polyethylene and polypropylene pipe and fitting for drainage and sewerage application. The standard specifies a pressure test of 85 KPa and a vacuum test of - 85 KPa as well as a minimum contact pressure of 0.4MPa between the rubber seal and the pipe wall over a distance of at least 4mm. These conditions have show to provide high resistance to tree root intrution for plastic pipes.
BlackMAX® pipe are manufactured with a spigot and socket rubber ring jointing system. A profiled ring is located in the second through from the spigot end and is compressed as the spigot enter the socket. This jointing system can be use after cutting the pipe anywhere along its length. Joined pipes may be deflected by up to 3 degrees off-line after assembly.