Back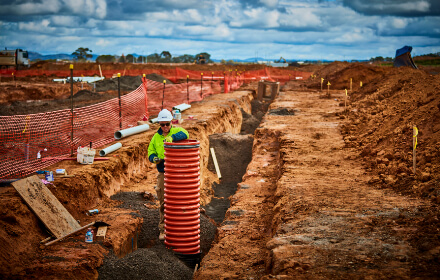 EZIpit
The Iplex EZIpit® 425 (MS), EZIpit® 600 (MC) and EZIpit® 1000 (MH) offer significant benefits in sewer construction and flexibility in sewer networks. The environmental, technical and economical demands of water authorities for a water-tight, corrosion proof, stable and durable sewer system is now a reality with the Iplex EZIpit® systems.
Contact us today to discuss how the EZIpit® range will benefit your next sewer maintenance project.
Advantages
The benefits of polypropylene in gravity sewer or sewerage systems include high resistance to sulphuric acid erosion, low specific weight and high modulus, producing a stiff light weight structure and resistant to abrasion, resistance surface wear.
The overall benefits of the EZIpit® system include:
| | |
| --- | --- |
| Features | Benefits |
| Flexiblity | The base includes adjustable pipe sockets which allow the pipe grade or angle to be adjusted up to 7.5o in any direction in the trench. |
| Long Service Life | Polypropylene base and riser for chernical resistance in sewer environments. |
| Robust & Flexible Riser | Flexible corrugated riser accommodates ground movement and dynamic traffic loads without cracking or breaking. The riser is easily cut on site for height adjustment. |
| In-ground Performance | Fully resistant to external loads up to a depth of 6 metres and waterright up to 5 metres. |
| Ease of Installation | Light-weight modular components for ease of handling in deep trenching. |
| Safety Performance | Can be assembled and backfilled at the same time as the sewer pipe. reducing costs in plant, labour and the risks associated with open excavation. |