Back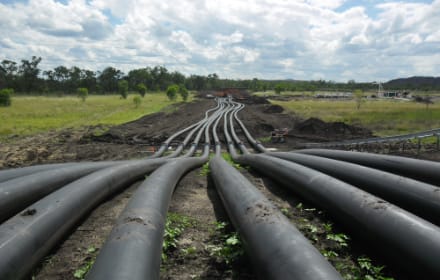 Poliplex PE100 Pipe
Polyethylene (PE) pipes have been produced in Australia since the mid 1950's, whilst initially in smaller diameters for industrial and agricultural applications, PE pipe and fittings are now available in diameters up to 2000mm. Usage has grown rapidly over this period and polyethylene resins are evolving from the tradition PE100 from the growing demand for higher performance, longer-life PE pipes that will provide reliable service for 100 years or more.
Are POLlplex® pipes resistant to ultra violet radiation?
Yes. POLlplex®pipes contain either carbon black or chemical stabilisers to protect them from the effects of ultra violet radiation. Black pipes are suitable for long-term external exposure to sunlight. Coloured pipe may be stored for up to 2-years in direct sunlight. For long-term exposure in above ground applications, lplex recommends the use of white THERMAPIPE®.
Do I need thrust blocks or other forms of restraint on POLlplex® pipelines?
Generally no. as POLIplex® pipes are fully welded or mechanically restrained, however it may be necessary to provide thrust restraint where POLlplex® pipelines connect to rubber ring jointed pipelines or other non restrained pipe or fillings. For more information, contact lplex Pipelines.
How do I pressure test POLlplex® pipelines?
Polyethylene pipes require a different test procedure to PVC or ductile iron pipelines to compensate for the materials tendency lo strain during pressure testing. If the correct test procedure is not used. the pipeline may appear to fail the test. Detailed information on the correct procedure is contained in Australian Standard AS/NZS 2033.
Can I use POLlplex® pipes to convey compressed air?
Yes. however they require rerating due to its elevated temperature and the stored energy contained in compressed air. Information is available in PIPA Industry Guideline POP002 "Polyethylene (PE) Pipes and Fillings for Compressed Air", which can be accessed at www.pipa.com.au.
What is the maximum temperature at which POLlplex® pipe can be used?
All temperature above 25°C, polyethylene pipes require pressure rerating. At very high temperatures as well as very low tempera­tures. the life of polyethylene pipes may be substantially reduced. For detailed information, refer to PIPA Industry Guideline POP013 "Temperature rerating of PE pipes", which can be accessed at www.pipa.com.au.
Are POLlplex® pipes affected by chemicals?
Whilst polyethylene is a highly chemical resistant material, there are some chemicals which are unsuitable for carriage in POLlplex® pipes, or may reduce their service life. For detailed information on most chemicals, refer to the Iplex Chemical Resistance Tool
Do I need any special training to con duct butt-fusion or electrofusion welding?
Yes. Welding by untrained operators is the most common cause of joint failure in polyethylene pipelines. Australian Standard AS/NZS 2033 stipulates that polyethylene welders must be trained and certified by a Registered Training Organisation and that welding procedures must be in accordance with PIPA Industry Guidelines POP00 1 "Electrofusion Jointing of PE pipe and fittings for pressure applications" and/or POP003 "Butt Fusion Jointing of PE pipes and fittings - recommended parameters". More information can be accessed at www.pipa.com.au.
How do I store electrofusion fittings?
Fittings should be stored out of the direct sunlight and in their original boxes and sealed plastic bags until immediately before use. Ideally, couplings should be stored on their flat ends.
Can I use an electrofusion fitting which has been removed from its original plastic bag?
Contamination is the most prevalent cause of failure of electrofusion fittings Failure to preserve the manufacturer's packaging of fittings increases the risk of UV oxidisation or surface contamination possibly rendering the fitting useless or unsaleable.
What can I use to clean electrofusion fittings prior to welding?
lplex Pipelines stock cleaning wipes that are ideal for installation preparation Methylated spirits contain residual oils that will contami­nate the welding surface and should not be used.
How do I weld coiled pipe that has become oval?
Coiled pipe will become oval due to the stress induced during coiling and must be rerounded using the correct tools prior to welding. lplex stock a variety of rerounding equipment suitable for this purpose (Refer to page 100 for a list of available rerounding equipment).
What is the difference between SOR and PN ratings?
SOR is the Standard Dimensional Ratio of the pipe outside diameter to wall thickness. PN ratings are the nominal pressure rating of the pipe, but only at when it is carrying non-viscous fluids at 20°c. SOR is the preferred method for specifying the grade of pipe required.
What is the expected life of POLlplex® pipelines?
There are many factors that may affect the life of polyethylene pipelines They include temperature, fluid type, installation method, UV exposure and cyclic loading. Wien correctly installed in underground applications, POLlplex® pipes conveying water will have an anticipated service of in excess of 100 years.