Back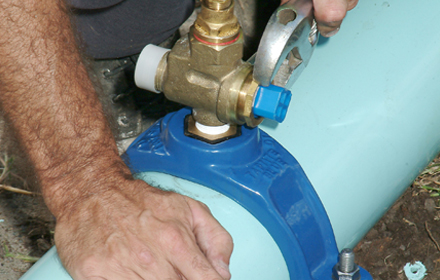 PVC-O
Iplex Apollo® is a bi-axially oriented PVC pressure pipe for use in water supply infrastructure. Iplex uses two patented process resulting in an exceptionally tough, high performance thermoplastic pipe with greatly enhanced physical characteristics, including greater impact resistance and reduced weight when compared with tother PVC pipes. Apollo® PVC-O pipe also provides increased hydraulic capacity due to its exceptionally smooth and enlarged bore.
Product Details
Standards and Approvals
Iplex Apollo® PVC-O pipe is manufactured to the Australian Product Standard under third party accredited quality assurance system conforming to AS/NZS ISO 9001.
Apollo® PVC-O pipe has ISO Type 5 third-party StandardsMark Certification, License numbers SMKP20188 in accordance with AS/NZS 4441 "Oriented PVC (PVC-O) pipes for pressure applications".
Apollo® PVC-O pipe was appraised by Water Services Association of Australia (WSAA) – PA 1612.
Rubber Ring Seals
The BLUEseal joint is a spigot and socket joint comprising of the Forsheda EPDM rubber gasket moulded onto a distinctive blue polypropyleneretaining ring. These gaskets are normally supplied factory fitted in the pipe sockets but are also designed for field installation where necessary.
The gasket comply with, BS EN 681 and have a UK Kitemark
Part 1 and 3 of AS/NZS 1646 "Elastomaric seals for waterworks purpose" takes cognizance of BS EN681
Test regimes used to certify the BLUEseal joint include those of ISO 13846 for presusre, ISO 13844 for vaccume performance and AS/NZS 4020 for drinking water applications.
Colour and Markings
Iplex Apollo® PVC-O pipes are colour coded as per AS/NZS 4441 to easily distinguish between the different types of pipes applications.
Apollo® pipe colour identification
| | |
| --- | --- |
| Product | Application |
| Apollo® PVC-O Blue | Drinking water |
| Apollo® PVC-O Purple | Recycled water |
| Apollo® PVC-O Cream | Pressure sewerage |
Environment Credentials
Iplex Apollo® PVC-O pressure pipe is certified to confirm to the Best Environmental Practice PVC (BEP PVC) provisions of AS/NZS 1260.
The Green Building Council of Australia (GCBA) has defined the standards for best practice environmental performance for PVC manufacturing, against which Iplex's processes have been audited by an independent certifying body. These permits users of Iplex PVC-O pressures pipes to claim positive PVC Credit Points under the GBCA's Green Star Rating Scheme.Learn More
Iplex Pipelines has published verified Environmental Product Declaration (EPD) on our range of PVC-O Pressure Pipes. EPD's are third party certified documents based on ISO 14025 and EN 15804 Standards that communicate transparent and comparable information about the life-cycle environmental impact of a product or service. Specifically, product declarations include information on the environmental impact of raw material acquisition, energy use and efficiency, composition of materials and chemical substances, emissions to air, soil and water and waste generation.
Apollo® PVC-O Pressure Pipe Range and Dimensions
Iplex Apollo® PVC-O pressure pipes are available in Series 2 in PN12.5 or PN16 respectively. Pipes are manufactured in accordance with AS/NZS 4441 and design coefficient C=1.6.
Apollo® PVC-O Fittings Range
Conventional socketed fittings complying with AS/NZS 2280 - 'Ductile Iron Pressure Pipes and Fitting and VISAA TN2 are recommended for use with ApolloBLUE® Series 2 pressure pipes.
A complete range of bends. tees, reducers and flange-spigot pieces are available from Iplex with rubber ring socket in size DN100 to DN300.
Ductile iron fitting can be protected from corrosion with the following
Polymeric coated (preferred)
Cement lining and polyethylene wrap
Epoxy coating
All standard ductile iron fitting supplied by Iplex have both an internal and external polymer coating
Ductile iron fittings used with Apollo® pipes should be manufactured with socket lengths equal to or greater than the dimensions in the table below. These dimensions are necessary to allow for Poisson's contraction when fully pressurised to class head. Where a flange connection is required a flange socket adaptor may be used.
Ductile iron sockets joint configuration (AS/NZS 2280)
| | | | |
| --- | --- | --- | --- |
| Normal diameter DN | Minimum insertion depth(mm) | Typical chamfer length (mm) | Allowable joint deflection (degrees) |
| 100 | 42 | 10 | 3.5 |
| 150 | 50 | 10 | 3.5 |
| 200 | 58 | 10 | 3.5 |
| 225 | 52 | 10 | 3.5 |
| 250 | 62 | 10 | 3.5 |
| 300 | 71 | 10 | 2.5 |
Reference:WSAA TN2 issue 2 "Guidelines for the use of ductile iron elastomeric joint fitting with plastic pipes"