Back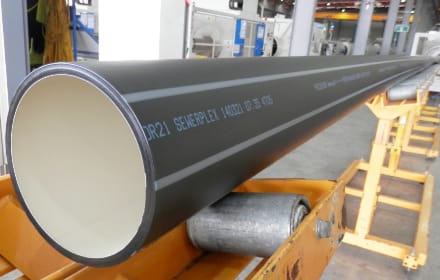 Sewerplex
SewerPlex® is a polyethylene fully welded joint system, designed to eliminate infiltration by storm and ground water, and tree root intrusion issues that were historically a common cause of failure in non-polymer sewer pipe systems.
Product Details
Standards and Approvals
SewerPlex® is manufactured to AS/NZS 4130 from resin compounds complying with AS/NZS 4131 and are StandardsMark licensed to AS/NZS 4130 by third-party certifier SAI Global.
Colour and Markings
PoliPlex® pipes are co-extruded with a black external skin (with grey stripes) and natural (cream) internal surface.
SewerPlex® Joining Systems
SewerPlex® pipe and fittings are joined using the electrofusion process. Iplex offer a full range of SewerPlex® fittings:
Couplings
Caps
Sweep junction
Sweep Bends
Puddle Flanges
Backdrops
Maintenance Shaft Drops
Saddles
Sediment Traps
SewerPlex® Pipe Range and Dimensions
Environmental Credentials
Iplex Pipelines has published verified Environmental Product Declaration (EPD) on our range of Polyethylene pipes. EPD's are third party certified documents based on ISO 14025 and EN 15804 Standards that communicate transparent and comparable information about the life-cycle environmental impact of a product or service. Specifically, product declarations include information on the environmental impact of raw material acquisition, energy use and efficiency, composition of materials and chemical substances, emissions to air, soil and water and waste generation.