Back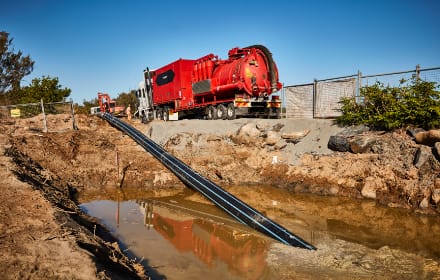 Millennium
Iplex Millennium® is a high stress crack resistant (HSCR) grade of PE100 pipe that provides up to ten times greater resistance to slow crack growth than conventional PE100 pipe. It has the same pressure burst strength of conventional PE100 pipe, but is specifically formulated for use in critical or high value pipeline assets where the risk of premature failure from slow crack growth is possible.Iplex Millennium® provides designers with the opportunity to increase the pipeline's service life without increasing the wall thickness, providing a safer option and 'peace of mind' for the project engineer/system owner.
Product Details
Standards and Approvals
In Australian pressure applications, polyethylene pipe is covered by AS/NZS 4130 and material Standard AS/NZS 4131. Iplex Millennium® conforms in all respects with AS/NZS 4130. The Plastics Industry Pipe Association of Australia (PIPA) have published guideline POP016 (High Stress Crack Resistant PE100) outlining the four tests which polyethylene compounds must meet to be defined as PE100 HSCR. A copy of this guideline can be downloaded from the PIPA website www.pipa.com.au.
Iplex Millennium® has also been appraised by Water Services Association of Australian (WSAA) - Product Appraisal Report 1610.
Colour and Markings
Iplex Millennium® pipes are colour coded as per AS/NZS 4130 to easily distinguish between the different types of pipes applications Millennium® pipes can be manufactured all black, with stripes and external coloured jackets.
Millennium® PE100 pipe colour identification
| | |
| --- | --- |
| Product | Application |
| Millennium® PE100 Black | |
| Millennium® PE100 Blueline | Drinking water |
| Millennium® PE100 Purple Stripe | Recycled water |
| Millennium® PE100 Cream Stripe | Sewerage |
| Millennium® PE100 Yellow Stripe | Gas |
Environmental Credentials
Iplex Pipelines has published verified Environmental Product Declarations (EPD) on our range of polyethylene pipes, including Iplex Millennium®.
EPD's are third-party certified documents based on ISO 14025 and EN 15804 Standards that communicate transparent and comparable information about the life-cycle environmental impact of a product or service. Specifically, product declarations include information on the environmental impact of raw material acquisition, energy use and efficiency, composition of materials and chemical substances, emissions to air, soil and water and waste generation.
Most importantly, EPD®'s are of great assistance to our customers; the builders and developers seeking to construct environmentally responsible infrastructure, because EPD®'s present key environmental product performance data in a uniform format that facilitates comparison between alternate materials.
Access to the Iplex Polyethylene Pipe EPD® provides constructors, operators and owners with the evidence they require to claim credit points under the Green Building Council of Australia and the Infrastructure Sustainability Council of Australia's rating systems.
Millennium® Pipe Range and Dimensions
Millennium® HSCR PE100 pipes are available from DN16 – DN1200