Back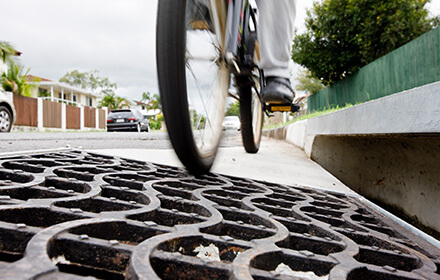 GATIC
GATIC® has a long and proud history of manufacturing in Australia, producing products that are the benchmark in its industry. GATIC® has been specialising in the manufacture and marketing of access covers and gratings since 1937. With over 75 years of foundry experience and large manufacturing and distribution network, GATIC® is well placed at the forefront of the industry for product quality, innovation, technical support and customer service.
Product Details
Standards and Approvals
AS3996 – Access Covers and Grates .
EN124 – Gully Tops and Manhole Tops for Vehicular and Pedestrian Areas
Quality
GATIC® is committed to operate under a strict International Quality Management System in accordance with ISO 9001. Its objective is to satisfy and exceed our customers requirements and expectations in both quality products and services. Rigorous testing and quality control throughout the production process are audited and continuously improved to ensure that GATIC®'s products complies with Australian Standard AS3996 and European Standard EN124.
To ensure consistent quality and performance, all GATIC® products are inspected as follows prior to delivery.
Dimensional tolerance check
Material compositions
Batch traceability data
Load testing (in accordance with AS3996 or EN124)
Keyhole gauge fit
Machining
Anti-rocking
Painting surfaces
General appearance
Packaging
GATIC® Mechanical Testing Laboratory
GATIC®'s Mechanical Testing laboratory is recognised and accredited by the National Association Testing Authorities, Australia (NATA Laboratory Accreditation No. 14262). Load tests are carried out on the capacity test rig as part of GATIC®'s Quality Assurance program in accordance with Australian Standard AS3996 and European Standard EN124. Test reports are available on request.
GATIC® also undertakes the following tests both inhouse and through independent institutes:
Bicycle Tyre Penetration Resistance Test
Hydraulic Flow Rate Test
Gas-tightness Test
Water-tightness Test
Load testing under Australian Standard AS3996 involves Type Testing of a unit to ensure the product achieves its Load Classification and Ultimate Limit State Design Load (kN).
Testing involves:
Five repetitions of the serviceability design load is applied to the unit in accordance with AS3996:2006 subclause 4.2.1.1, measurement of Ultimate Limit State Design Load (kN). Set must not exceed the Permanent Set and Deflection Limits (refer to Table 4.2 in AS3996:2006 subclause 4.2.1.2).
Followed immediately by one application of the ultimate limit state design load for a minimum of 30 seconds. The unit must sustain the above tests without visible cracking, collapse or other forms of structural failure.
Load Classifications
GATIC®'s complete range of metal Access Covers, Road Grates and Frames are designed and tested in accordance with the Australian Standard AS3996:2006 and the European standard EN124:1994. The following table provides an overview of loading classes, its typical use and loading capacity. Appropriate class for a cover or grate depends upon the place of installation.
Australian Standard - AS3996:2006
The Australian Standard, AS3996:2006 is GATIC®'s nominated standard for projects/applications within Australia. Type testing under AS3996:2006 requires the Access Covers to meet the Ultimate Limit State Design Load (kN) without exceeding the Permanent Set and Deflection Limits. Refer to AS3996:2006 subclause 4.2.1. for further details.
WSAA Specification, WSA PS-290 Access Covers for Water Supply and Sewerage to AS3996, details increased serviceability design and ultimate limit state designs loads as that detailed in Table 3.1 of AS3996, refer table below, for Classes B, D, E and F covers. Gatic® covers are designed and tested to the higher WSAA specification.
CLASS RATING
TYPICAL USE
NOMINAL WHEEL LOAD (kg)
SERVICEABILITY DESIGN LOAD (kN)
ULTIMATE LIMIT STATE DESIGN LOAD (kN)
AS3996
WSAA
AS3996
WSAA
AS3996
WSAA
A
Footways and areas accessible only to pedestrians and pedal cyclists
330
330
6.7
6.7
10
10
B
Footways that may be mounted by a vehicle or livestock, and light tracker paths
2670
2670
53
54
80
82
C
Malls and pedestrians areas open to slow moving commercial vehicles
5000
5000
100
100
150
150
D
Carriageways of roads and areas open to commercial vehicles
8000
7000
140
160
210
240
E
General docks and aircraft pavements
13700
13700
267
280
400
420
F
Docks and aircraft pavements subjects to high wheel loads
20000
20000
400
410
600
615
G
Docks and aircraft pavements subject to very high wheel loads
30000
30000
600
600
900
900
NOTE: The above descriptions of classes of units reference to "wheel" should also be taken to include "dual wheels". Norminal wheel loads are a guide only. Consideration should be be given to the type, size and pneumatic pressure of the load in application. A force of 1 kN is approximately equal to the weight of 100 kg.
EN124 : 1994 - European Standard Load Classification
The European Standard, EN124:1994 is GATIC®'s nominated standard for International projects/applications outside of Australia. Type testing under EN124:1994 requires the Access Covers to meet the Minimum Design Load (kN) without exceeding the Permissible Permanent Set values. Refer to EN124:1994 subclause 8.3. for further details.
| CLASS RATING | TYPICAL USE | NOMINAL WHEEL LOAD (kg) | SERVICIBILITY DESIGN LOAD (kN) | ULTIMATE LIMIT STATE DESIGN LOAD (kN) |
| --- | --- | --- | --- | --- |
| A | Footways and areas accessible only to pedestrians and pedal cyclists. | 330 | 10 | 15 |
| B | Footways that may be mounted by a vehicle or livestock, and light tracker paths | 2670 | 83 | 125 |
| C | Malls and pedestrian areas open to slow moving commercial vehicles | 5000 | 167 | 250 |
| D | Carriageways of roads and areas open to commercial vehicles | 8000 | 267 | 400 |
| E | General docks and aircraft pavements | 20000 | 400 | 600 |
| F | Docks and aircraft pavements subject to high wheel loads | 30000 | 600 | 900 |