Back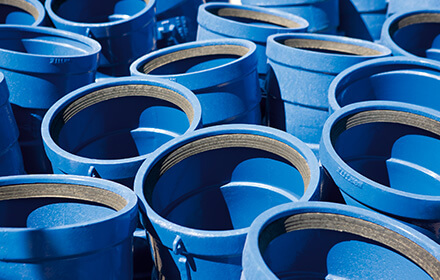 Crevet Ductile Fittings
Iplex's foundry NIBF (Northern Iron and Brass Foundry) manufactures the Crevet® range of ductile iron fittings for the water industry. These fittings are produced in diameters from 80mm to 750mm and are compatible with Irontite® DI, PVC, GRP and AC pipelines.
Product Details
Standards and Approvals
Crevet® ductile iron fittings are manufactured to the Australian Product Standard under third party accreditation quality assurance systems confirming to ISO 9001.
AS/NZS 2280 "Ductile iron pipes and fittings"
AS/NZS 4020 "Testing of products for use in contact with drinking water"
AS 1646 "Rubber joint rings for water supply, sewerage and drainage purposes"
AS 1831 "Spheroidal or nodular graphite iron castings"
AS/NZS 4087 "Metallic flanges for waterworks purposes"
AS/NZS 4158 "Thermal bonded polymeric coatings on valves and fittings"
ISO 16132 "Ductile iron pipes and fittings, seal coats for cement mortar linings"
Rubber Ring Seals
Elastomeric seals are dual hardness EPDM rubber to AS1646. All seal configurations have been tested to AS/NZS 2280 for Elastomeric Seal Joints. The tests are carried out in the configuration of maximum design radial gap between the components to be joined. Tests include hydrostatic pressure and joint infiltration at maximum deflection angle, hydrostatic pressure and a joint infiltration test under a shear force load.
Socket Joint Deflections
| | |
| --- | --- |
| DN | Minimum Joint Deflection (AS/NZS 2280) |
| 80-250 | 3.5° |
| 300-600 | 2.5° |
| 750 | 1° |
Polymeric Coatings
Thermal Bonded Polymeric Coatings (Standard Option)
Crevet® ductile fittings are supplied coated with a thermal bonded polymeric coating. Fittings can be supplied with Polyamide (thermoplastic coating) or other thermoplastic type coatings for Fusion Bonded Epoxy (FBE – thermosetting coating).
Both coating types provided the necessary protection, allowing product to be installed without the need for sleeving. Thermoplastic and Thermosetting coatings are applied and tested to the requirements of AS4158.
Coating Thickness as per AS4158
| | | |
| --- | --- | --- |
| Coating Material | Minimum film thickness – Internal surface (µm) | Minimum film thickness – External surface (µm) |
| Polyamide (Thermoplastic) | 250 | 200 |
| FBE (Thermosetting) | 350 | 300 |
Note: 1 µm = 1/1000th of a millimetre.
Cement Lining (Non-standard option)
Cement lining is applied to the requirements of AS/NZS 2280 to give a dense even surface concentric with the internal diameter of the fitting. Cement used is manufactured to AS3972. Fittings come standard with general purpose (GP) and can be supplied with Gb or SR type cement upon requires. All cement lined fittings are required to be seal coated.
Cement Mortar Lining Thicknesses
Nominal Diameter DN (mm)
Lining Thickness (mm)
Nominal
Minimum
80-300
6
9
375 – 750
9
7
Bitumen Coatings
Bitumen coating is applied to both cement lined and unlined fittings. Bitumen coatings conforms with the requirements of AS/NZS 3750.4.
Crevet® Ductile Fittings
The Crevet® ductile fittings are available from DN80 – DN750 in socket, spigot and flange combinations. The extensive range includes:
Tees
Bends
Connectors and Pretaps
Tapers
Crosses and Wyes
Bellmouths
Hydrant Risers
Dismantling Joints
With NIBF one of the only Australian foundries still locally manufacturing ductile iron fittings. Iplex and rapidly respond to requests for uncommon fitting configurations and to meet tight project time lines or assist in supplying fittings for unscheduled repairs.