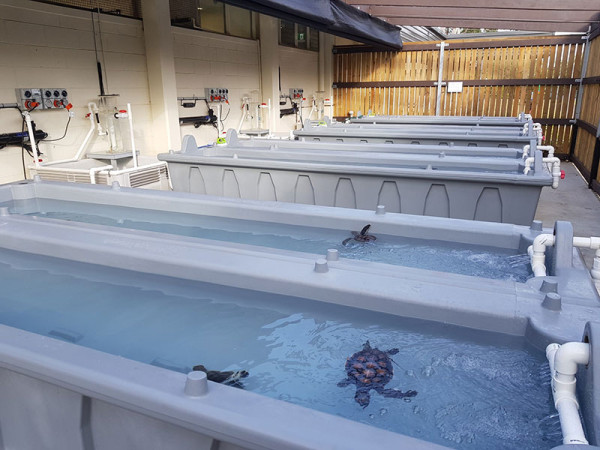 Healthy oceans need sea turtles. Extraordinarily little is known about the young years of a loggerhead sea turtle's life, yet turtles are an important part of keeping natural order in their environments. Turtles influence many species around them. Iplex is proud to have the opportunity to donate our pipes to support the Glencore Loggerhead Project research baby loggerhead turtles in their infant years at the JCU Caraplace Turtle Research Facility (Caraplace).
The Caraplace is the world's first turtle health research facility studying the health of a sea turtle in detail. It has the capacity to house up to 48 sea turtle hatchlings in separate tanks where they can eat, swim, and rest on a subsurface platform. Iplex's pipes play an important functional role in keeping the aquariums close to natural conditions.
Our Iplex PVC (Polyvinyl Chloride) pipes and valves make up the Caraplace facility systems indoor and outdoor allowing these cute turtles the ability to move between in different weather conditions. The saltwater environments that these turtles thrive in can be highly corrosive over extended periods of time and that is why PVC as a material and its chemical resistance to such conditions made it the perfect choice of product.
Our plastic pipes will be around for as long as these infant turtles go on to live, making them not only a safe but a durable option for the facility. At Iplex we take comfort knowing that these cute creatures that play a vital role in our oceans are kept safe with our pipes in a healthy environment whilst they are being studied at the JCU Caraplace.