Back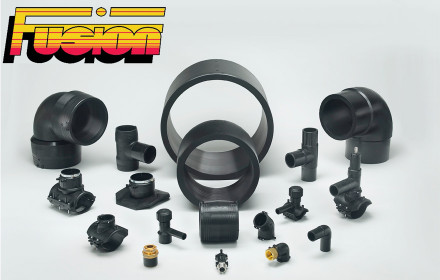 Electrofusion and Butt-Welded Fittings
Iplex stocks a comprehensive range of Fusion Plast electrofusion and butt-welded fittings. The Fusion Group have been providing high quality products and innovative solutions globally since 1971. Their long history of supporting their products with state-of the-art installation equipment and knowledgeable technical support, make them a valued partner to Iplex.
Iplex carries a large amount of stock nationally and has access to significantly more bespoke polyethylene fittings. We have a strong relationship with Fusion Plast and with other expert manufacturers, as well as having our own polyethylene fabrication facility with capabilities of manufacturing fittings up to 2000mm OD. This makes it easy for you to select Iplex as your chosen partner.
Material Properties
Temperature Effects
The 'Design Life' of Fusion Plast compression fittings is 50 years when used to transport fluids at 20°C at a maximum pressure of 16bar. The 50 year period is an historic and somewhat arbitrary figure, however he actual lifespan of fittings is expected to be many decades longer. Fusion Plast PE fittings can be used at temperatures above 20 °C, however the pipe and fitting pressure capacity is reduced.
The fittings are also ideal for sub-zero temperatures above -20°C Celsius.
Chemical Resistance
Fusion Plast PE fittings are made from the finest grades of polyethylene PE100 and hence share the chemical resistance of the parent pipes. When determining suitability for the transport of fluids, it is important that the compatibility of all materials coming in contact with our PE pipes and fittings is checked using the Iplex Chemical Resistance Tool