Back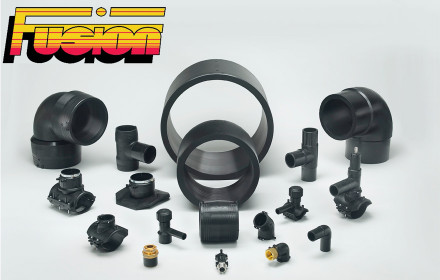 Electrofusion and Butt-Welded Fittings
Iplex stocks a comprehensive range of Fusion Plast electrofusion and butt-welded fittings. The Fusion Group have been providing high quality products and innovative solutions globally since 1971. Their long history of supporting their products with state-of the-art installation equipment and knowledgeable technical support, make them a valued partner to Iplex.
Iplex carries a large amount of stock nationally and has access to significantly more bespoke polyethylene fittings. We have a strong relationship with Fusion Plast and with other expert manufacturers, as well as having our own polyethylene fabrication facility with capabilities of manufacturing fittings up to 2000mm OD. This makes it easy for you to select Iplex as your chosen partner.
Does the whole Fusion Plast fittings range have 16 bar pressure capacity?
One of the advantages of the Fusion Plast range is that it actively includes even higher pressure rated fittings as stock items. Don't hesitate to ask for SDR9 (Pn20) and SDR7.4 (Pn25) fittings as we can get them quickly!
What sort of tools do I need for installation?
Tooling is usually necessary part of successful installation of electrofusion and butt-welded fittings. There are strict guidelines/standards that need to be adhered to. This included AS/NZS 2033 which mandates proper installation equipment under Australian legislation. For more details on what is required, please refer to our industry website at www.pipa.com.au (Ref: POP001 for electrofusion and POP003 for butt-welding.) These documents can also be accessed here.
What is the temperature range of the fittings?
The pressure ratings of polyethylene pipe systems are usually expressed as a PN rating that is determined according to the operating pressure for water at 20°C. Polyethylene pipe systems need to be de-rated if the temperature of the pipe-system, or the medium being transferred through it is different to this. Theis information is available at our industry website at www.pipa.com.au (Ref: POP013) These documents can also be accessed here.
Are the fittings resistant to chemicals?
If the parent material is just polyethylene, then the chemical resistance will match that of the parent pipe. Caution is required if the fittings have any other materials. E.g. PE-Brass transition has multiple materials that need to be considered.