Back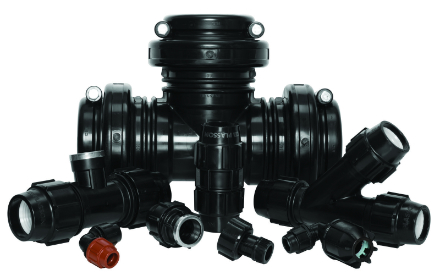 Compression Fittings
Iplex stocks a comprehensive range of Plasson compression fittings. Plasson have been providing high quality products and innovative solutions to connect Australian pipelines for over 40 years. Australian pipelines are installed in wide ranging conditions from residential plumbing to underground mines. Plasson's unique design features, which ensure joints can be made and re-used, have proven themselves in all environments.
Material Properties
Temperature Effects
The 'Design Life' of Plasson compression fittings is 50 years when used to transport fluids at 20 °C at a maximum pressure of 16bar. The 50 year period is a historic and somewhat arbitrary figure – the actual lifespan of fittings is expected to be many decades longer. Plasson fittings can be used at temperatures above 20 °C, however the pipe and fitting pressure capacity is reduced.
Chemical Resistance
Plasson compression fittings comprise of a polypropylene copolymer body, NBR O-ring and acetal (POM) split ring. It is important when determining suitability for the transport of fluids containing chemicals that each of these materials are checked for compatibility. Where chemical resistance is not ideal for the split ring or O-ring, Plasson products made from alternative materials can be sourced that may be compatible.
Like polyethylene, polypropylene also has very good chemical resistance properties, however some differences exist, and checks should be made when determining suitability for the transport of chemicals.