Back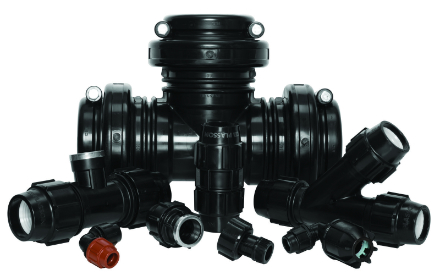 Compression Fittings
Iplex stocks a comprehensive range of Plasson compression fittings. Plasson have been providing high quality products and innovative solutions to connect Australian pipelines for over 40 years. Australian pipelines are installed in wide ranging conditions from residential plumbing to underground mines. Plasson's unique design features, which ensure joints can be made and re-used, have proven themselves in all environments.
Does the whole Plasson compression fitting range have 16 bar pressure capacity?
The majority of Plasson's compression fitting range is rated to 16 bar, however some fittings have a lower pressure capacity – if in doubt, consult with Plasson sales staff or view Plasson's online sales catalogue – visit www.plasson.com.au
What sort of tools do I need for installation?
No tools are required to install rural fittings. On metric pipe sizes 40mm and above where fittings are hand tightened plus ½ turn with a wrench, Plasson 'C' spanners are recommended however common wrenches can also be used. Best Practice on metric pipe installations is to use a deburring tool on pipe ends to remove sharp edges to prevent damage to O rings.
What is the temperature range of the fittings?
Plasson fittings are designed for use on cold water (20 °C) pipelines. The fittings can be installed in low temperature environments, although care should be taken to prevent impacts approaching 0 °C – at low temperatures polypropylene can experience brittleness. Fittings can be used up to 50 °C, however both the pressure rating and life expectancy of the fitting is reduced. Check with Plasson staff if the fittings are to be used at elevated temperatures.
Are the fittings resistant to chemicals?
The fitting components are made from polypropylene, NBR and acetal which are resistant to a wide range of chemicals. However each material has different properties and if the fittings are to be used in non-water applications installers should always check with Plasson sales staff if in doubt about chemical compatibility.