Back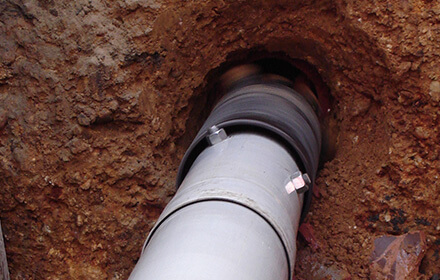 Restrain
Iplex has developed RestrainTM PVC-U sewer pipe specifically for gravity sewer applications utilising trenchless techniques for the installation, repair or replacement of underground infrastructure. RestrainTM is a rubber ring jointed PVC-U pipe, with a threaded spigot and socket, which provides immediate axial capability during installation.
Frequently Asked Questions
Is Restrain™ sewer pipe compatible with DWV pipe and fittings?
Yes RestrainTM sewer pipe is fully compatible with DWC pipe and fittings manufactured in accordance with AS/NZS 1260 "PVC-U pipe and fittings for drain, waste and vent application"
How is Restrain™ sewer pipe tested ?
RestrainTM sewer pipe is tested in the same manner as conventional DWV sewer pipe. Refer to AS/NZS2566.2 "Installation of flexible pipeline", AS/NZS 2032 "Installation of PVC pipe systems", WSA02 Sewerage Code of Australia and/or project specific documentation.
Can I solvent weld Restrain™ sewer pipe to DWV sewer pipe and fittings?
Yes RestrainTM sewer pipe has the same outside diameter as conventional DWV sever pipe and can be solvent welded to DWC pipe and fittings with accordance with AS/NZS 1260 "PVC-U pipe fittings and drain, waste and vent application". Ensure that the spigot or socket thread has been cut off before jointing to the solvent weld pipe or fitting.
Why can't I use rubber ring pipe lubricant on the thread and rubber ring
The threaded joint requirment specific long lasting lubricanting properties that are not provided by conventional pipe jointing lubricants.
Why is a different pulling head necessary?
The pulling head allows the drilling mud in the bore hole to be pushed into the annulus between the pipe and the hole. It also protects the end of the RestrainTM sewer pipe. Wind-up pulling heads designed for PE pipe may be unsuitable for RestrainTM sewer pipe as the internal engagement grooves may be unable to effectively grip the hard PVC surface. Crossbolt style pulling heads are therefore recommended.