Back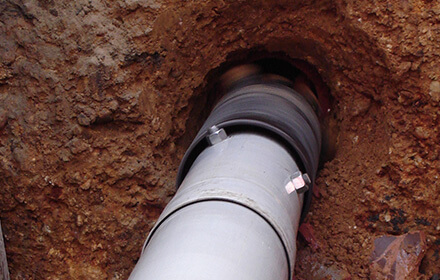 Restrain
Iplex has developed RestrainTM PVC-U sewer pipe specifically for gravity sewer applications utilising trenchless techniques for the installation, repair or replacement of underground infrastructure. RestrainTM is a rubber ring jointed PVC-U pipe, with a threaded spigot and socket, which provides immediate axial capability during installation.
Advantages
The threaded spigot and socket provides immediate axial restrain. The rubber ring seal is seated in a groove behind the spigot thread to ensure that the rubber sealing ring is not dislodged during installation.
Restrain™ sewer pipe is compatible with both solvent welded and rubber ring jointed DWV PVC-U sewer pipe and fittings conforming to AS/NZS 1260.
| | |
| --- | --- |
| Features | Benefits |
| Threaded socket and spigot joint | Provides immediate axial restraint during installation using trenchless methods, saving time |
| Compatible with conventional DWV PVC sewer fittings to AS/NZS 1260 | Allows simple connection to maintenance shafts and service laterals |
| Two directional installation capability | pipe can be either pushed or pulled into place to suit installation methodology |
| High performance rubber sealing ring | Minimises the risk of leakage and root intrusion |
| Conforms to AS/NZS 1260 | Use with full confidence |
| Manufactured from PVC-U | Suitable for installation on flat grades, is certified Best Environmental Practice PVC and qualifies for GBCA Green Star PVC credit Points |
| Produced in stiffness class SN16 | Suitable for use in deep installations |