Back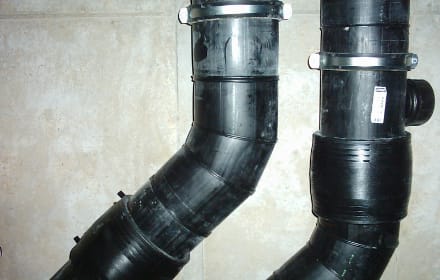 Wavin HDPE Drainage
Iplex's Wavin HDPE Drainage System is a complete soil, waste and vent system of pipes and fittings specifically for use in above-ground drainage applications, removing domestic waste water and rainwater from residential and commercial properties.
Manufactured from high-density polyethylene (HDPE), this tough and durable drainage system offers an extraordinary chemical resistance in combination with flexibility and great impact resistance. Wavin PE pipes and fittings are joined by welding, making the joints totally free from leaks due to building movement.
Product Details
Standards and Approvals
Iplex's Wavin HDPE drainage pipe is manufactured to the Australian Product Standard under a third-party accredited quality assurance program conforming to ISO 9001. WaterMark product certification to AS/NZS 4401 and AS/NZS 5065.
Colour and Marking
Iplex's Wavin HDPE drainage pipe and fittings are manufactured black in colour.
The HDPE pipe is marked in accordance with AS/NZS 4401 and AS/NZS 5065 markings include:
Product code (e.g. PNP160E)
Wavin HDPE Drainage
Pipe size (e.g. DN160)
Stiffness (e.g. SN4)
Standard dimensional ratio (e.g. SDR26)
PE
Date and time of manufacture (e.g. YYMMDD HH)
Factory code
WaterMark licence number (e.g. WMKT21640)
Product standard (e.g. AS/NZS5065)
Environmental Credentials
Iplex Pipelines has published verified Environmental Product Declarations (EPD®) on our range of polyethylene pipes, including Iplex's Wavin HDPE Drainage pipe.
EPD®s are third-party certified documents based on ISO 14025 and EN 15804 Standards that communicate transparent and comparable information about the life-cycle environmental impact of a product or service. Specifically, product declarations include information on the environmental impact of raw material acquisition, energy use and efficiency, composition of material sand chemical substances, emissions to air, soil and water and waste generation.
Wavin HDPE Drainage Pipe Range and Dimensions
Wavin HDPE Drainage Fittings Range