Back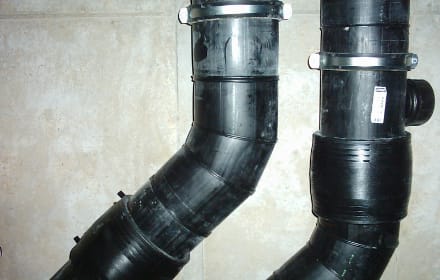 Wavin HDPE Drainage
Iplex's Wavin HDPE Drainage System is a complete soil, waste and vent system of pipes and fittings specifically for use in above-ground drainage applications, removing domestic waste water and rainwater from residential and commercial properties.
Manufactured from high-density polyethylene (HDPE), this tough and durable drainage system offers an extraordinary chemical resistance in combination with flexibility and great impact resistance. Wavin PE pipes and fittings are joined by welding, making the joints totally free from leaks due to building movement.
Material Properties
Mechanical Properties
| | |
| --- | --- |
| Property | Value & Unit |
| Density (Specific Gravity) | 955kg/m3 |
| Ultimate Tensile Strength | 32MPa |
| Yield Strength | 25MPa |
| Hardness Shore D | 64 |
| Elongation at Break | 800% |
| Elongation at Yield | 10% |
| Poisson's Ratio | 0.4 |
Thermal Properties
| | |
| --- | --- |
| Property | Value & Unit |
| Max Continuous Service Temperature | 75°C |
| Specific Heat | 2.5 kJ/kg.°C |
| Thermal Conductivity | 0.4 W/m.°C |
| Coefficient of Thermal Expansion | 0.2mm/m.°C |
Temperature Effects
HDPE drainage systems will sustain higher operating temperature than some alternate plastics pipe systems, in making cases it more suited for use in commercial kitchens. The maximum working temperature of Wavin HDPE drainage pipe and fittings is 75°C, however intermittent discharges of up to 95°C are possible where discharges do not exceed one-minute duration.
Impact Strength
HDPE drainage pipes have excellent impact resistance, allowing their use in environmental temperatures as low as -40°C. This property makes handling of pipes easy during installation and minimises the likelihood of damage during service.
Chemical Resistance
Iplex's Wavin HDPE drainage pipes have high resistance to a wide range of chemical reagents making HDPE suitable to convey waste water solutions commonly found in domestic and light commercial applications. Such resistance, however, is a function of temperature, concentration and pressure.
The suitability of a pipeline for conveying a certain chemical will depend on such factors as the concentration of the chemical in the fluid to be conveyed, temperature, flow rate, the presence of pockets or "dead spots" in the pipeline and other factors.
HDPE drainage pipes should not be used with water drawn from sources disinfected with chlorine dioxide.
The data provided in Iplex's Chemical Resistant Tool is intended only as a guide for planning purposes and is not automatically applicable to all conditions of use. In some cases, combinations of chemicals have a synergistic effect where the individual chemicals do not. It cannot be assumed therefore that an individual chemical's lack of effect on HDPE would apply for combinations of chemicals. Where this is possible, HDPE's use should be validated in the complete chemical mixture in question.