Back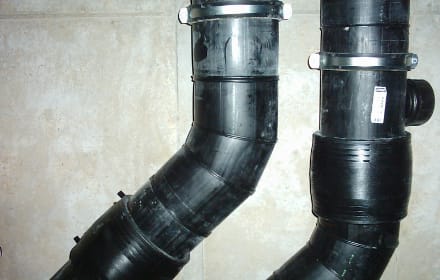 Wavin HDPE Drainage
Iplex's Wavin HDPE Drainage System is a complete soil, waste and vent system of pipes and fittings specifically for use in above-ground drainage applications, removing domestic waste water and rainwater from residential and commercial properties.
Manufactured from high-density polyethylene (HDPE), this tough and durable drainage system offers an extraordinary chemical resistance in combination with flexibility and great impact resistance. Wavin PE pipes and fittings are joined by welding, making the joints totally free from leaks due to building movement.
Handling & Storage
Iplex's Wavin HDPE pipe and fittings are light weight and easy to handle and whilst HDPE has considerable durability, the product may be damaged through gouging, scoring, scratching, localised deformation, excessive ovalisation or impact damage that could adversely affect performance.
Handling
In general pipes and fittings should not be dropped, indented, crushed or impacted and should not be subjected to rough handling during loading and unloading operations. When using forklift hoists or cranes to load and unload packaged piping, ensure the lifting tines do not make direct contact with pipe or fittings. It is preferable to lift the packaging using nylon slings. Steel cables, chains, hooks and other metallic lifting gear must not be used in direct contact with pipe.
Storage
The storage area provided for pipe shall be a flat surface free of any sharp edges, stones or projections, which may cause damage or localised deformation to the pipe. Pipe and fittings that are required to be stored for extended periods of time shall be stored indoors out of direct sunlight. Wherever possible, pipe and fittings shall be stored in their original packaging. Once pipe is removed from its original timber framed packaging, ensure it is fully supported along its entire length to avoid possible deformation. Where this is not possible, short-term storage or 75mm wide timber supports at maximum spacing of 1m in a cool dry environment is acceptable.
Fittings should be retained in their original packaging until required for use.
Jointing lubricant shall be stored in sealed containers until ready for use.