Back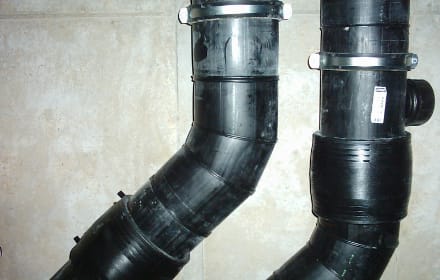 Wavin HDPE Drainage
Iplex's Wavin HDPE Drainage System is a complete soil, waste and vent system of pipes and fittings specifically for use in above-ground drainage applications, removing domestic waste water and rainwater from residential and commercial properties.
Manufactured from high-density polyethylene (HDPE), this tough and durable drainage system offers an extraordinary chemical resistance in combination with flexibility and great impact resistance. Wavin PE pipes and fittings are joined by welding, making the joints totally free from leaks due to building movement.
Advantages
Iplex's Wavin HDPE Drainage system has many benefits including high chemical resistance, flexibility and durability. The following table provides a summary of system benefits.
| | |
| --- | --- |
| Features | Benefits |
| Excellent chemical and corrosion resistance | Provides long-life in corrosive environments |
| Flexibility and Durability | Options for rigid and flexible installation methods to compensate for building movement and settlement |
| High impact resistance | The elasticity of PE provides pipes a high impact resistance, even at low temperatures |
| High temperature resistance | Suitable for use in commercial kitchens |
| UV and weather resistance | PE is UV-stabilised and can therefore be installed outdoors without the need to apply protective paint finishes |
| Ease of installation | Can be welded (both butt welding and electrofusion joints), providing leak free system off-site prefabrication keeps costs down |
| Light Weight | Reduces installation time and cost |
| Smooth bore | Smoother internal surface, reducing the build-up of fatty deposits which could result in costly maintenance |
| No toxicity when burned | Does not emit any halogens or dioxins in the event of a building fire |
| Supported by an Environmental Product Declaration | Simplifies the process of claiming GBCA Green Star project credit points |