Back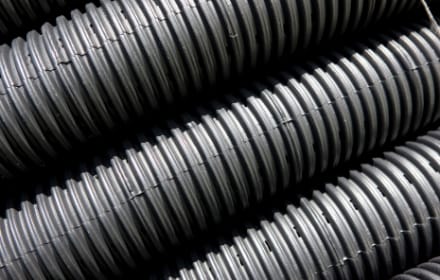 Envirodrain
With a corrugated wall designed to provide maximum strength with minimum weight for ease of handling, Envirodrain® is the versatile solution for land drainage. Since Envirodrain® is flexible enough to be installed continuously around cures, the requirement for fittings is minimised. Manufactured from polyethylene, polypropylene or PVC, Envirodrain® is unaffected by corrosion in saline environments. Envirodrain® can be provided with a filter 'sock' to minimise silt build up, unslotted for use as a flexible drainage system where instruction by fine tree roots may cause obstruction.
Product Details
Standards and Approvals
Envirodrain® is manufactured to the dimensions specified in the Australian Standard AS2439.1 "Perforated Drainage Pipe and Associated Fittings".
Colour and Markings
Envirodrain® range can be identified by colour for material and pipe stiffness:
Class400/SN8 Polyethylene or Polypropylene Environdrain® – Black
Class1000/SN20 PVC Environdrain® - White
Filtersock - White
Environdrain® Pipe Range and Dimensions
Envirodrain® is available in sizes DN56, DN100 and DN150; in Class400 (SN8) and Class 1000 (SN20). Pipe is available slotted, slotted with sock and non-slotted.
Filter Sock
Under some conditions, fine sand or soil particles may flow into the pipe with the water and result in reduced flow in a pipe laid to a shallow gradient. Under these conditions it may be advantageous to use a woven fabric filter 'sock' to screen such particles. An additional benefit is that the filter sock can stretch over the corrugations of the Envirodrain®, increasing the effective water access area to the pipe.
Filter sock is supplied in two grades. The heavier sock (RTA) grade conforms to specifications of NSW Traffic Authorities and a lower non-approved grade.
The filter sock is manufactured from high tensile strength polyester yarn.
Pipe Stiffness
Envirodrain®'s class rating can be used as a guide to the product application and loads.
| | | | |
| --- | --- | --- | --- |
| Product | Class Rating | Material | Application |
| Envirodrain® Black | Class 400 / SN8 | PE/PP | Landscape, road construction or civil engineering works not subjected to heavy vehicular traffic. Also recommended for agricultural drainage projects. |
| Envirodrain® White | Class 1000 / SN20 | PVC | Landscape, road construction or civil engineering works subjected to heavy vehicle traffic is involved – road construction, infrastructure and mining projects. |