Back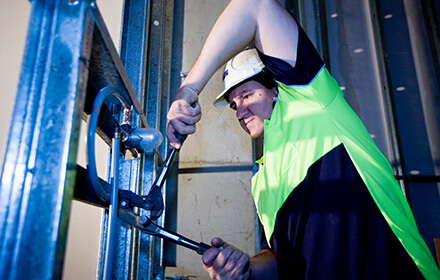 PRO-FIT
Iplex Pro-fit® PB hot and cold plumbing system is flexible enough to be bent by hand, is extremely light weight, offers corrosion resistance, and eliminates water hammer noise. In particular, no brazing or soldering is necessary. When installed by a licensed tradesman, the system has proven to be both high quality and economical to use.
Frequently Asked Questions
How tight can I bend Iplex Pro-Fit® pipe?
Due to the pipe's inherent flexibility and it's availability in 50 metre coils, polybutylene pipe can be bent easily around obstructions or through studs and plates with the minimum use of fittings. Care should be taken not to kink or damage the pipe. It is recommended that the minimum bending radius be 10 times the outside diameter of the pipe. If this is not possible an Iplex
Pro-fit® elbow should be used. If for any reason the pipe is kinked or damaged, the faulty section should be cut out and replaced.
What needs to be done to install Iplex Pro-Fit® in:
a) Timber framework? Holes drilled in studs or plates etc. shall be accurately sized to allow longitudinal movement of the pipe through the hole with a minimum clearance of 2mm on the pipes diameter. A 25mm spade bit is suitable for both sizes of pipe. Please note that the use of silicon in the holes is not required.
b) Metal framework? Holes drilled in metal studs or plates etc. shall be accurately sized to enable suitable sized grommets, lagging or a short sleeve of oversized pipe to be firmly secured in the framework. This is to allow free movement of the pipe through the grommet, lagging or sleeve without any direct contacts between pipe and framework.
What allowances do I need to make for thermal expansion?
As the lineal thermal expansion rate of PB pipe is approximately 13mm for every 10°C temperature change for each 10 metres of pipe, care must be taken with the installation to allow for this potential movement of the pipe. PB pipe should not be pulled tight between fixed points as this will prohibit movement if the pipe contracts, and result in excessive tensile forces on joints and fittings. Allow 10mm slack per metre of pipe. Expansion can usually be accommodated by the pipe's flexibility.
How is Iplex Pro-Fit® installed in chases, ducts or conduits?
As per AS/NZS 3500 parts 1&4 or local authority requirements:- Pipes in chases shall be continuously wrapped with an impermeable flexible material. Ducts shall be fitted with removable covers. Conduits embedded in walls or floors shall comply with the requirements of the appropriate building authority. Iplex Pro-fit® pipe is available pre-lagged in a light duty polyethylene sleeve.
If I am installing Iplex Pro-Fit® pipe under concrete slabs, what do I need to do?
Pro-Fit® pipe may be installed under concrete slabs in accordance with AS/NZS 3500 parts 1 & 4, or local authority requirements. When Pro-Fit® penetrates the slab it shall be at right angles to the surface of the slab and shall be lagged with an impermeable, flexible plastics material of not less than 6mm thickness for the full depth of the slab penetration i.e. PVC conduit or pressure pipe.
What are the distances between clips used to secure Iplex Pro-Fit® pipe?
The use of pipe clips should be in accordance with AS/NZS3500 parts 1&4 and in keeping with good plumbing practice. The following table is based on AS/NZS 3500.
Is there a Pro-Fit® pipe suitable for recycled water?
Iplex Pro-Fit® PB pipe is available for recycled water. Coloured purple, with the wording "recycled water do not drink" printed along its length.
Can I use Pro-Fit® pipe on the outside of a building?
If the system is to be exposed to sunlight beyond the normal construction periods, the pipe should be protected from sunlight (UV) damage.
Can I use K2® crimp tools to crimp Pro-Fit® Fittings?
The 16mm K2® tool can be used to crimp the 18mm Pro-Fit® fittings. The other sizes are not compatible.